Let Worry Free Lawn Care Services Handle Your Twin Cities Lawn Care!
TAKE 10% OFF YOUR FIRST MONTH OF LAWN CARE SERVICES WITH PROMO CODE "WORRY FREE LAWN"
Average Google Rating : 4.5 out of 5.0
Contact Us For A No-Obligation Lawn Care Quote, And Be "Worry Free" All Season!
Lawn mowing is an important part of lawn care, but it's certainly not the only part. Our Minneapolis lawn care experts make sure that your lawn is healthy every time they come to visit, and make a priority of keeping your grass healthy – which is the key to a green, luscious lawn.
On top of that, our experts also make sure that your lawn looks amazing when they're finished, with carefully cut lines and grass that is evenly cut on every part of your yard. We got this… that's why they call us "Worry Free."
We want to give our fellow Twin Cities residents and commercial businesses the best lawn care Minneapolis has to offer. We have great lawn mowing rates, and can fit the mowing on a "worry free" basis with reliably scheduled weekly mowings (check out our Lawn Mowing page).
We also do Spring and Fall lawn clean up, ​sidewalk edging, yard trimming, and other types of seasonal lawn service MN yards need – whether it's for your home or commercial business.
Here are the main
Minneapolis Lawn Care

 and

Lawn Maintenance

services we offer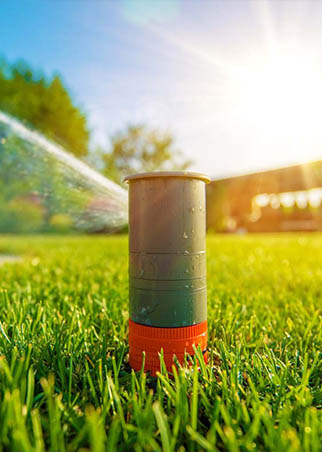 Lawn Mowing / Lawn Care Services
Whether you want lawn mowing service done on a weekly or biweekly basis, we will make sure that our lawn care service keeps your yard in good shape and that it's the look and length that you want.

Walkway and Garden Edging
There's nothing that makes your yard look better than the rest more than a perfectly straight edge along the sidewalks and walkways, so let us manicure your lawn and we'll get it dressed to impress.

Yard Trimming and Blowing
These services will ensure that the parts of your lawn which the mower can't reach are taken care of (like under bushes and lawn ornaments), and that no grass clippings will be left on your walkways.
These can be pretty time consuming jobs, and who likes raking for hours? That's why we recommend letting us take the hassle away, and make sure that your yard is ready to grow in the Spring, and sleep in the Fall.

Dethatching is vital for the health of your lawn. Our lawn care experts will make sure your lawn's roots are protected the right way so you can have a greener and more luscious lawn this season.

Garden Maintenance / Planting
We don't just take care of lawns and landscaping. We can also help you prepare your garden space, plant vegetables and flowers, and maintain your garden.
If keeping your hedges trimmed and healthy feels like too much work for your precious weekend hours, let us keep your hedges at a good length and shape all summer long.

Yard aeration (aka core aeration) is an often- overlooked service that is extremely important for your lawn's health, so make sure that you give us a call to aerate your lawn and make sure it's getting the oxygen and nutrients it needs.

In landscaping and garden areas, mulching is important for both the plants and the overall appearance, so let us know where you want us to mulch and we'll make sure it gets done for you.
We'll make sure your home or commercial property's walkways, driveways, and sidewalks are cleared of snow for safety and convenience. Whether it's snow plowing or snow blowing, we'll get it done quickly and efficiently on a snow removal service that's right for you.
At Worry Free Lawn Care, we understand
the importance of a well-maintained lawn, but we also know that life can get in the way. Say goodbye to stressing over weeds, pests, and watering schedules with our top-notch services.
In this post, we will give you 10 compelling reasons why Worry Free Lawn Care is the best choice for all your lawn care needs in Minneapolis.
So sit back, relax, and let us do the work for you!
Why
Choose Us

for your property maintenance?
Here at Worry Free Lawn Care, we have several values that we keep our focus on in order to provide you with the best lawn care service you can imagine
1. Quality of Service
One of the main reasons why Minneapolis residents should choose Worry Free Lawn Care for their outdoor maintenance needs is the quality of their service. Their team of skilled professionals is devoted to providing the highest quality of service while using the latest techniques and equipment. They understand the importance of taking care of the city's lawns and landscaping and will do everything necessary to ensure that each project is done to perfection.
Additionally, Worry Free Lawn Care is committed to using eco-friendly practices whenever possible. Their use of organic products, conservation methods, and natural solutions ensures that not only will your lawn look its best, but it will also be safe for the environment. Their quality of service is unmatched, and you can trust that your lawn and landscaping will be taken care of with the utmost care and precision.
2. Professionalism and reliability
As a Minneapolis resident, you know that the weather can be unpredictable. You need a lawn care company that is reliable and will show up when they say they will. You also want a company that is professional and has your best interests in mind. That's why Worry Free Lawn Care is the best choice for Minneapolis residents. We are a reliable and professional company that always puts our customers first.
3. Affordable Prices
Worry-Free Lawn Care is the best choice for Minneapolis residents because it offers affordable prices. This includes mowing, edging, and blowing your lawn trimmings and debris. If you need additional services like weed control or fertilization, you can add them on for a reasonable price.
4. Comprehensive Services
Worry-Free Lawn Care is the best choice for Minneapolis residents because we offer comprehensive services that are designed to keep your lawn looking its best. We offer lawn mowing, edging, and trimming services that will keep your lawn looking neat and tidy. We also offer aeration and dethatching services that will help ensure that your lawn is getting the oxygen and nutrients it needs to stay healthy. In addition, we offer full cleanup services that will help prepare your lawn for the winter months.
5. Specialized Equipment
Worry-Free Lawn Care is the best choice for Minneapolis residents for many reasons. One reason is that they have specialized equipment that allows them to provide top-notch service.
This specialized equipment ensures that your lawn will be properly cared for and that you won't have to worry about a thing. In addition, the professionals at Worry Free Lawn Care are experienced and know how to use this equipment to get the best results.
6. Eco-Friendly Practices
As a Minneapolis homeowner, you no doubt take pride in your home and lawn. Now, more than ever, it's important to be mindful of how we use our natural resources. That's why Worry Free Lawn Care is the best choice for Minneapolis residents. We use eco-friendly practices that conserve water and protect our environment.
Here are just a few of the ways we do that:
We employ mowing techniques that promote healthy grass growth and reduce water needs.
We offer aeration and overseeding services that improve soil health and reduce compaction.
7. Experienced Staff
Worry-Free Lawn Care is the best choice for Minneapolis residents because of our experienced staff. Our team has a combined total of over 50 years of experience in the lawn care industry. This means that we have the knowledge and expertise to provide you with the best possible service.
We also have a dedication to customer service, which means that we will always go above and beyond to make sure that you are happy with our services.
8. Guaranteed Satisfaction
When you choose Worry Free Lawn Care, you're choosing a company that guarantees your satisfaction. We stand behind our work and guarantee that you'll be happy with the results. If you're not, we'll make it right.
It's important to us that our customers are happy and that their lawns look their best. We know that a healthy lawn is important to you and your family, and we take pride in our work. We're dedicated to providing the best possible service and delivering exceptional results.
9. Local Business Support
As a local business, Worry Free Lawn Care is committed to supporting other local Twin Cities businesses. We believe that by investing in our community, we can create a strong and thriving local economy. We are proud to support other local businesses, and we encourage our customers to do the same.
When you choose Worry Free Lawn Care, you are supporting a company that cares about its community. We are invested in making Minneapolis a great place to live, work, and play. We believe that by working together, we can make our city an even better place to call home.
10. Convenient Scheduling
Assuming you have a busy life, the last thing you want to do is spend your free time taking care of your lawn. Worry Free Lawn Care takes that burden off of your shoulders by providing convenient scheduling options that work with your busy lifestyle. Whether you need weekly or bi-weekly service, we will be there to keep your lawn looking its best.
Worry Free Lawn Care is the Best Choice for Minneapolis Residents
Lawn care, with top-notch service, quality products and competitive pricing. With a custom-tailored program designed to improve the beauty of your lawn and satisfaction guarantees, you can trust us to take care of all your lawn needs. Call us today to learn more and get a free quote!
TAKE 10% OFF YOUR FIRST MONTH OF LAWN CARE SERVICES WITH PROMO CODE "WORRY FREE LAWN"
We proudly serve the following communities:
Minneapolis, St Paul, Bloomington, Edina, Columbia Heights, Inver Grove Heights, Maplewood, Mendota Heights, New Brighton, ​and Richfield